Today we did more wiring of lath and WWM for the roof of our tiny cottage. We had just barely started to do some cement when the rains came and we had to stop for the day. I'm hoping tomorrow will be good weather so we can continue.
Someone emailed me asking if we had abandoned the idea of making the cottage underground. Not at all. The 'tiny cottage' that we're building this year is actually one small section of the final house. It gives us something we can move into this year, test out ideas on,etc. Next year we'll continue extending the house. Eventually I plan three vaults that will project further to the north. The back half of the house will be bermed to give earth sheltering from the cold wind and winter environment. The front will have insulation and then stone work outside that for double walls.
We can't actually go 'underground' but must berm up because we're on ledge. You can't go down from here. :) On the other hand, the ledge is great for grabbing onto so the house will never slide down the mountain!
The same reader also mentioned: I just love rock work. The one thing I envy about Vermont, is all the quarry granite you can get, free for the taking.
Granite is our largest crop after maple syrup and the local town of Barre claims to be the Granite Capital of the World – pretty audacious. But they may have something to it. Each spring we go out in the fields and toss handfuls of 3/8″ crushed stone on the ground. By fall the stones are the size of basketballs or larger and ready for picking. This is why Vermont men _and_ women are so strong as well as good looking.
The problem is when we miss one in the fall harvest – granite can over winter and by the time you notice it next year it will be the size of a small car. If you don't quickly harvest it then things really get out of control with some rocks growing as large as houses. I've heard they can get as big as a whole mountain but I doubt that. Surely nobody would be as irresponsible as to let one grow that long.
The other thing I've read about is that in some parts of the country they actually don't have good rock growing conditions so people resort to taking chicken wire and coating it with a mixture of powdered 'seamint', sand, water and other ingredients to make faux stone. Seems hard to believe. :)
By the way, on a more serious note, one load of granite 'waste', about 10 tons or about 12 cubic yards, costs $35 _delivered_. No kidding! You can also go the pick-your-own route. We use it for fill and as each load arrives I pull out the more interesting pieces and sort them aside for projects like the house, benches, fence posts, steps, animal waterers, etc. Most of it is the local grey granite with some green, blue, red, black (from Africa – that's a long shipping trip!) as well as the occasional marble. Size varies from fist size up to slabs that are 14'x7'x8″ thick – those are called skins.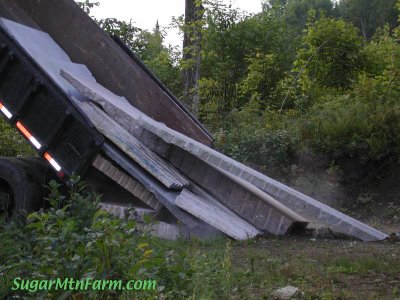 A delivery of skins arriving from the local stone quarries or sheds.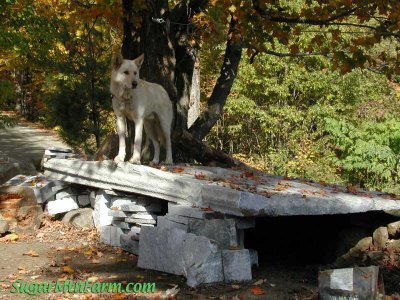 Hagrid on his stone kennel – where I was storing a particularly nice skin.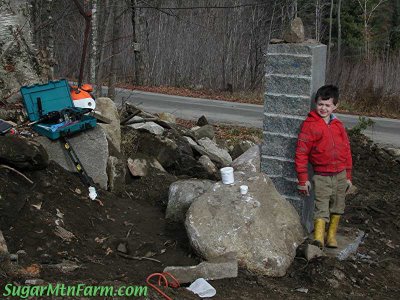 Ben helping me put in a gate post – 14″x14″x108″. It is deeply embedded so it stays put – don't mess with the rock!
47째F/34째F 2″ Rain, Thunder & Lightning