This photo is just before we broke for lunch. Will and Ben are cleaning up the mortar mixer. Here you can see the channel block all in place except the last block which must be cut to fit (see below), the vertical rebar reaching up towards the sky and if you look closely, or click on the photo to get the big picture, you'll be able to see the partition block laid in rough approximation of the rooms. Everyone had a lot of fun walking around the tiny cottage this morning, visiting the various rooms and talking about what will be where. Seeing the position of the walls brought up a lot of ideas.
One bag of Portland cement weighs 94 lbs. Mixed (2.5 half gallon scoops = about 15 lbs) with sand (5 shovel fulls – real precise – about 3.5 gallons), water (0.6 gal), PVA fiber (a handful), accelerant (~2 oz) and soap (dash) it makes about 4 gallons of concrete. No, those numbers don't add up. I'll leave it to you, the reader, to figure out why. Consider it a mystery question, leave your answer in the comments and we'll discuss this in a future class. :)
The soap makes the concrete more fluid without adding additional water – thus it flows better into the cores and has a higher slump. In fact, it is almost self leveling. Cut the water a little to about 0.45 gallons, drop the dish soap, add lime and it ends up a nice stiff mortar mix.
With just one mortar mixer Ben or Will produces a 4 gallon batch in a five gallon pail about every 7 minutes. One person could probably keep two mortar mixers going at full production doubling production. The mixer person can do that all day long without wearing out. Using the kick the bucket method as we did last year on a pig hut is a lot slower and more tiring. If you need more than that and you would want to consider bigger equipment or a ready-mix delivery by truck like we did for the slab.
That 4 gallons of concrete fills about two cores in a three block high wall (thus six cores plus stretcher end gaps) if you add a few small rocks to the mix after you plunge the mix. Our technique is pour the concrete into the cores (hold the bucket a bit high so the stream folds), plunge it with a stick to force concrete in all the seams and joints, add rocks to raise the level as desired, plunger a little more and add metal (rebar, steel) if desired. Theoretically the fiber is replacing the need for steel but I like both, just to be sure. Over kill is an amateur's best friend.
After I'm done I clean up the edges where any concrete has protruded. This made me feel more confident with the dry stacking since it is now all bonded together and there is the vertical pillar of concrete and rebar inside the cores. Effectively the blocks are acting as forms. Later I'll parge and plaster the surfaces. Alternatively I have read about not filling and just parging the surface with a fiber cement. By filling the cores I'm also increasing the thermal mass of the house – a good thing.
I've experimented with cutting blocks down in a number of ways. Hammer and chisel works great for splitting end blocks to half blocks as well as several other splits. It is relatively safe, low on dust and quick. Hammer drill with a chisel point works too – it's noisy and even faster – easier to make mistakes. A diamond blade on a skill-saw as I'm using here is the fastest way for taking a little off the top, and the most dangerous and dusty method. I could barely see through the dust and fogging of my safety glasses. Even with water the dust is a problem. But it does the trick quite neatly. In this case I was shortening a channel block by half an inch – bad planning.
A little experiment. I wanted to be able to pour cement down a set of cores but not have it go below a certain block to leave an open core below for utilities. I placed blocks on top of some pink-board, poured a little high slump concrete into the cores and let it harden. Simple and effective.
Here my youngest assistant takes a break from the hard labors of toting and hauling cement blocks. Breaks and reasonable work limits are key to being able to keep going on the job. We pace ourselves, stop for tea and an apple, stop at noon for lunch, break work at about 3:30 pm this time of year to start cleanup – if we wait any longer it gets dark and hard to see what you're doing. That's when mistakes happen – best avoided. You might suggest setting up lights to work into the evening but that would just mean we'd be wasted the next day. It is better to just keep up the pace day by day rather than wracking our bodies. Then with the occasional rainy day like yesterday we get a day off as well.
By the end of the day we had all the channel block mortared, rebar in place both vertically and horizontally and the front wall of channel block filled and level with the vertical poured wall of foundation along the front. Why you might ask did I do forms half way across and block half way across??? To experiment. I wanted to experience joining the two together. What better place than on a tiny cottage.
Did I get it right? Well, not entirely…
I forgot to leave a piece of protruding horizontal rebar from the poured vertical wall to join with the channel block of the masonry wall. I fixed that with a hammer drill and epoxy. I did not make this mistake again. Lesson learned.
I calculated my vertical wall based on mortar joints and then did dry-stacking for three joints. Oops. We fixed that as shown in the photo above by using wire to tie some pink board on either side of the masonry wall thus creating a form. Then I poured cement in there to raise it up to the height of the poured wall next to it and floated off the top. That worked slickly. A mistakge but I got to work with both dry stacking, mortared joints and a leveling top pour. As a result of this error I made a new technique for quick forms in the process and probably won't make that mistake again. The new technique may come in handy for something later.
I also forgot to put in two anchor bolts. Oh, well. Something the hammer drill will fix later.
Other than those errors it went well. Now we'll have a perfectly flat and perfectly level surface a
ll around for the upper walls.
Next come window spaces. The number of blocks per course will drop dramatically since most of the upper wall is windows so we'll go much faster. Being more experienced will help too. On the flip side, we'll be working higher up. See those tall pieces of rebar, I must lift each block up over them and set it down. Who needs a gym!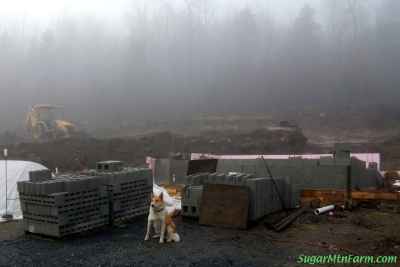 Every job site needs a security guard!
58째F/48째F Mostly Sunny