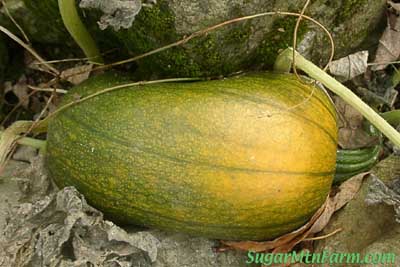 Pumpkin growing squashed between three rocks.
Jessica
raised a good
question
in my post about the
harvest
the other day.
I don't know to what extent you are dependent on your garden for food, but it sounds like quite a bit. The list you gave makes me think of old farm diaries. I can't imagine what it must have been like to lose crops when there was no supermarket to run to in case of emergencies.
Generally not everything fails at once the same. Conditions favor one thing or another although not necessarily what we were hoping for. As a simple rule, I think you get to like something else a lot that year. :)
This year we're really going to enjoy pumpkins… We have a lot. They are probably our largest crop by weight this year. Maybe followed closely by potatoes and then onions. My son Will has been talking about finding all sorts of new recipes for pumpkins. Curried pumpkin soup, roasted pumpkin, pumpkin and pork, pumpkin and onion soup, pumpkin and potato soup, pumpkin hash, pumpkin in stew, pumpkin bread, pumpkin pie, pumpkin salad, pumpkin cake, pumpkin muffins, pumpkin waffles… The imagination boggles.
I suspect that in the past when people had a major crop loss they depended a lot more on hunting that year if they lacked the livestock resources. We are fortunate that our livestock are doing well so we have plenty of meat. Back before we raised our own meat there were years we didn't eat much of any meat due to the combination of costs and not wanting to buy meat that was factory raised. Fortunately the animals are very hardy and flexible in their diet, more so than plants.
One of the reasons we choose the animals we raise is for their foraging ability on what is naturally provided in our climate. The hens do require some grain or meat for a few months in the winter to maintain their egg laying but the pigs and sheep don't require grain or commercial feeds. Animals are capable of turning things that are inedible for us into high quality protein and lipids, etc. They transform the brush and pasture, hay, grasses and leaves that we can't eat, into something delicious and nutritious. In our northern climate, a vegetarian diet without any supplements (vitamin pills, etc) may be politically correct to some people but it is not a sustainable option, especially if you want to eat locally grown food.
Another important difference between modern farming and traditional agrarian life is that people did not used to plant one crop. Now most farmers specialize in just one cash crop. Typical modern farmers don't produce much of their own family's food. Instead, they like most people import it from other states and other countries and typical fresh food travels about 1,500 miles from farm to fork. If their cash crop is hit by weather, pests, markets, etc, then they take a bad hit since they are dependent on that one thing. This has caused consolidation in the producers as well as government subsidies which are a questionable remedy.
Homesteaders strive for the other end of the spectrum. Very few to none are going to achieve sustainable total independence but it is good to produce what you can, buy locally what you can't produce and for the rest it comes from further afield. I think of us as 'farmsteaders', that is we're producing cash crops, timber, firewood and pastured pork, that are a significant portion of our income, a.k.a. farming, but we also produce much of our own food which is more like homesteading. We have a great deal of diversity to see us through the failure of any one or even many crops.
In the past famine was more common, especially before we had good methods of storage. If crop failures happened over a period of several years it was particularly hard for people as they would end up eating their seed and not be able to plant next year. This still happens. Historically, you probably remember mention of the Great Potato Famine. Some people starved to death, others migrated. That is how some of our ancestors came to this country – that and clan wars, always a good cause for emigrating. New blood from immigrants has long been a strength of our nation.
Longer events like the Little Ice Age were more dramatic in how they altered lives. We'll see what global warming does. One interesting issue is that we're due for another ice age – Will global warming stave it off, hasten it or other… What is your prediction?
Fortunately, we can go to the grocery store and we do several times a year to buy staples we don't produce as well as luxuries like chocolate, ice cream, spices and lobster. We just did our fall shopping – That will last us for months aside from milk which we don't produce, can't store enough and go through a lot – gotta getta cow! :)