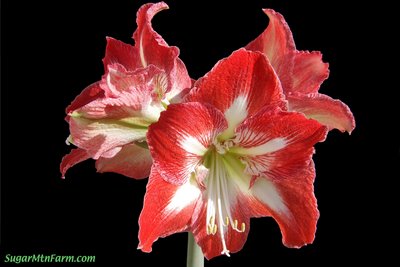 This Amaryllis was given to me by my father as a bulb. The bloom was beautiful so at its peak I captured it in 9MegaPixels of glory with my Fuji FinePix E900 digital camera.
I used the same technique I had done for the Christmas Cactus last December of setting the pot on a stool in the south facing doorway of our kitchen at noon. The room in the background virtually vanishes to the camera while the flower is illuminated with intense natural light. If you lack a fancy studio, backdrops and all that then this makes for a great way to get that 'look'.
Click on the image to get the full 1440×960 pixel version – my current desktop picture a.k.a. wallpaper.
72째F/68째F Sunny