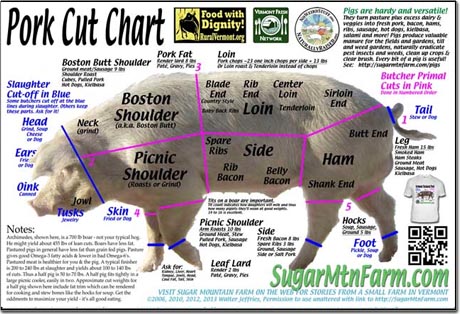 Click the image for a larger graphic with readable text.
This weekend someone asked me how many pork chops and other cuts of meat in a half pig. As luck would have it we just sent four half pigs to the butcher. Below is a typical breakdown using the numbers from one of those halves. This is probably more info than ever you wanted to know about half a pig. If not, ask questions!
Short answer:
About 23 pork chops from a half pig, 2 roasts, 1 fresh ham, 8 lbs of fresh bacon slab, 3 lbs of spare ribs, 9 lbs of ground pork, etc totaling about 75 lbs in the freezer for this half pig. That was a little on the high side. Most pigs are between 60 and 70 lbs for a half share. The chart above gives you a quick graphic view. Click on the image for a larger graphic so you can read the small print. This can vary with the individual pig as well as how thick pork chops are cut and such.
Long answer:
First note that a pig can be raised to the size you need. Some people prefer smaller pigs, others larger. As they get larger there is more fat to lean. A typical slaughter weight is between 250 lbs yielding about 180 lbs hanging weight. If you just take the prime commercial cuts that is about 120 lbs in the freezer. If you take the whole pig, nose to tail, that will give you about 160 lbs which includes great stuff like the hocks, soup bones, lard, liver, jowls (like bacon), head, trotters and other things. The pig is good to eat, end-to-end.
For the images here the specifications given to the butcher were: "A standard cutting of a half pig, packed for a family of two with Hot Italian spicing for the sausage."
If you prefer you can specify custom cutting and they'll follow your instructions. For example, perhaps you want more ground meat, no hams and no roasts. Or maybe you would like tenderloin and fewer pork chops. Or perhaps you want to reduce the bacon and go with more ribs. If you aren't sure, just say "Standard cut for a family size of 2" or what ever size your family is. You'll get great meat in familiar cuts like those from the market.
The other big question the butcher may ask is what type of sausage you want. Realize that this is sausage patties in one pound packages. It is not sausage in the little wiener links. We use this at our house for meat balls, chili, American chop suey, spaghetti sauce, breakfast sausage patties with fresh pastured chicken eggs, etc. The option at most butchers is: Plain (no spices), sweet Italian, Mild Italian, Hot Italian or Maple Breakfast. For a standard cut there is only about nine pounds of sausage so just pick one type of seasoning.

The photo above shows this half pig share laid out on the table all wrapped up in cuts. Below is a chart of the actual cuts from this half pig.
| | |
| --- | --- |
| Pounds | Item |
| —— | —- |
| 13 | Pork chops 1″ – total of 23 pork chops, 7 packs of 2 + 3 packs of 3 |
| 3 | Spare Ribs – Ask for my mother's recipe if you need one |
| 9 | Hamburger/Sausage ground meat in 1 lb packages |
| 15 | Fresh Ham – easily brined or sent for smoking |
| 8 | Fresh Bacon Slab – brine & slice or send for smoking |
| 10 | Shoulder Roast |
| 4 | Butt Pork Roast |
| 5 | Stew Bones – good for dogs if you don't make soup or stew |
| 8 | Fat – you can render this or feed it to dogs or chickens |
| —— | —- |
| 75 | Total pounds of cuts in the freezer |
The reason for the pork chops being 7 packs of 2 and 3 packs of 3 is that is convient for for a family of two. If you are a family of four ask for four chops to a package, etc. The smaller pork chops near the end were packed three to a package to adjust for their smaller size, thus the two different package sizes. Total count of pork chops was 23 for the half pig. These were thick 1″ pork chops. Thinner 3/4″ pork chops would yield more chops from the same pig. A shorter pig would yield fewer, a longer pig more. There is some natural variation. Figure on the typical pig having around 20 pork chops per side – more is a bonus. Also note there may be an oddly sliced pork chop towards the end – small and great for a child or sandwich.

Above is that same pig packed in one picnic cooler plus the ham and bacon soon to be brining in a five gallon pail. If I took the ice out of the cooler the ham and bacon barely fit.
A typical pig would have yielded 60 to 70 lbs of cuts. This pig was a little bigger. Since these are pasture raised, heritage breed animals, they are real live creatures – thus they have some variance rather than the cookie cutter uniformity of factory farmed products.
Two other weight terms you may hear related to pigs are:
The "hanging weight" was 78 lbs for this half pig share. One interesting thing is the left side and the right side weight slightly different amounts. On this pig the other side was 80 lbs. Thus the whole pig's "hanging weight" was 78 + 80 = 158 lbs. This was measured without the skin, head or feet. Note that some places measure the hanging weight with skin, head and feet on and would thus have a significantly higher hanging weight. Had the pig been scalded and scraped instead of skinned the hanging weight would have been higher, more like 215 lbs or about 107 lbs per half. The trade off is that with the lower hanging weight some meat in the feet, head, tail, neck, jowl and the skin (pork rinds) was lost. This is important to know if you are buying by the pound hanging weight.
Note that the processing is a big part of the cost in a pig. If you process your pig yourself, be it just the butchering or also the slaughtering, then you save a lot of money. It's a skill you can learn. You can do an entire pig with just knives, no saws required so you don't have to have fancy equipment. Of course, to make bone in commercial chops you'll need a bandsaw and you'll probably want a grinder too.
If your pig were weighed skin, head and feet on for the hanging weight, then the cuts weight (the 75 lbs above) would be very different from the hanging weight. For this pig, the hanging weight with the head, skin and feet would likely have been about 87
lbs for the half instead of 75 lbs. That difference of 12 lbs is almost all waste that goes in the trash but you would pay for it anyways in a higher butcher bill. If you are buying by the pound then with the head, skin and feet on your would also pay a higher price for the hanging pig. Ask about this little detail if you buy by the pound "hanging weight".
The "live weight" was approximately 300 for this pig. We don't have a big enough scale for live pigs so we measure by taping them. This is a pretty good estimate. See this article about how to weight a pig with a string.
Note that these are from early in 2006 prices in the examples. The prices of slaughter, butchering, smoking, fuel and the pig itself have all changed a lot over the years with the large increases in the cost of nearly everything. Early 2009 and 2015† prices have been added to the tables below for comparison and the 2006 prices have been kept for historical information. For up-to-date pricing see our web site.
When bought with a friend as a whole pig and split* the cost break down comes out as shown in the table below. The prices are shown as when this article was originally written in 2006 as well as updated pricing over the years. A half pig is also shown:
2006
Whole
2009
Whole
2015†
Whole
2015†
Half
~$2.25
$3.50
$4.25
$5.00
Price per pound hanging
180
180
180
90
Hanging Weight**
$350
$630
$765
$450
Pig Price
$40
$35
$55
$40
Slaughter, Chill & Hung
$86
$135
$155
$100
Butcher (vacuum packed)
$46
$46
$58
$30
Smoking (hams & bacon)
—-
—-
—-
—-
$522
$846
$1,033
$620
Total
$4.32
$7.10
$8.60
$10.28
Cost/lb Commercial Cuts
(~67% of hanging)
$3.22
$5.22
$6.37
$7.65
All Cuts/lb (~90% hanging††)
2006
Whole
2009
Whole
2015†
Whole
2015†
Half
Notes:
Linked sausage is also now available at $2.50/lb. See the article Sausage and Law.
*Buying a half pig is the expensive way to do it. The half pig price is $5.00/lb whereas the whole pig price is a much lower $4.25/lb. This savings reflects that when you buy in volume you save me the time and effort of matching your order up with someone else and handling two separate order. A big savings I can pass on to you.
**A pig can be raised to any size, within reason, so if you want a larger pig, just ask. Hanging weight at the butcher we work with most is defined by her as after the butcher slaughters & guts, typically about 72% of live weight scalded and scraped, head on, feet on. The butcher defines it differently than the previous butcher who slaughtered and then skinned removing the head & feet yielding less meat. The advantage of the current butcher is there is more meat available in the final order including bones for soup, head, feet, tail and other things that the previous butcher tossed out. This accounts for the difference in hanging weight for the same pig so I have averaged them both to 180 lbs which is fairly typical.
†Price effective 1/1/2015
††All the pig is good to eat. There is a lot more beyond the commercial cuts you see in the stores. Trotters for thickening soups and stews, hocks slow cooked, organ meats, tail, head cheese a.k.a. brawn and more.
And what did the farmer (me) get per pound? We keep about 60¢/lb in 2009 dollars. That's a little more than we were getting in 2006 which helps with the increased costs of living. We won't get rich raising pigs but the life is good, the pigs are happy and fortunately I never have to worry about where our next meal is coming from!
There are smoke houses that will take the fresh hams and bacon and maple cure them or smoke them to your preference. When we slaughter for our family we don't smoke the meat, we just brine it which is delicious. See this article about brining a ham to see how we do it.
Below is the finished product – a fresh, pasture raised pork chop. Ten months from breeding to butcher, raised on pasture, hay, milk and cheese. Delicious to the last bite!
You may find the article "What Good is a Pig: Cuts of Pork Nose to Tail" helpful.
Update 2008-07-01: Note that since this article was published there are a few changes. Our butcher now uses vacuum packaging which gives a longer storage life in the freezer. This costs a little more per pound but is worth it. We now sell by hanging weight rather than halves and wholes. See our web site for up to date prices and if you have any questions, just email me.
75°F/70°F Sunny after 7″ of rain this past few days on top of three weeks of rain earlier. My corn drowned. :(