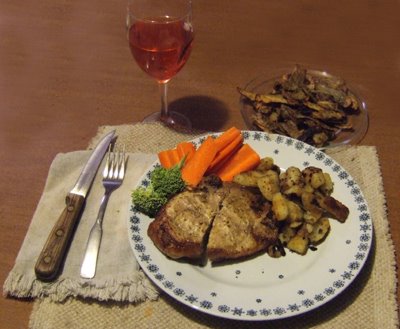 I do not like castrating piglets at all. Neither does my wife or son like helping. It is not a pleasant task. It is even less pleasant for the piglets. There is a fair bit of research that suggests that castration is not necessary for boars that are slaughtered before age six months. I have written about this before including links to the research articles. Unfortunately it is traditional and customers want it.
Archie, my pig mentor of sorts, has been raising pigs for thirty years. He eats boars. Big boars. Really big boars. 1,062 lb boars. He does not castrate boars that big and with good reason. Use your imagination. Instead, his technique is to put the boar out on pasture away from the females for 30 days. After that there is no boar taint even on a boar that big and three or four years old. He claims this always works. This makes sense with the research I have read from Brazil, Europe and other countries.
One butcher claims that if you castrate the boar immediately after killing it then there is no boar taint. I'm a little dubious of that claim based on the research linked to in the above article. I suspect his boars are fine for the same reason that Archie's boars are fine. As isolated bachelors they have not been making a lot of the hormones that gives the boar meat a taint in some cases. Or perhaps they simply don't make enough taint chemicals to be a problem at all.
Some of the research suggests that some breeds of pigs, possibly even simply some lines within breeds, don't tend to have boar taint. This raises the distinct possibility that one could produce a line of pigs through simple selective breeding that does not have boar taint. I find this very interesting. No genetic engineering necessary with all of its iffy propositions. No patent licensing needed — nobody should be able to patent life anyways. Just good old selective breeding that anyone could do. I speak as an inventor and a breeder.
The reason people want boar (male) piglets cut (castrated) and made into barrows (cut male piglets) is because apparently sometimes with some uncut boars the meat, and especially the fat, can end up with what is called "boar taint" which makes the meat less than appetizing. If you are buying a piglet for $65 and going to invest $150 in food plus $120 in processing costs (slaughter + butcher) and six months of your life raising it then of course you want to be sure the meat is going to be good. You want to make sure you get good food for your $335 and your time. Tradition says to castrate the boys just to be sure.
I realize you don't want to risk your summer pig to find out if it works to not castrate. So, I've been doing some testing for you. In another year I should have statistically significant results to report. While we wait I'll tell you about my ongoing research.

What I have been doing is progressively slaughtering older and older boars. Where as Archie keeps his boars away from females for a month I am leaving them in with females (gilts & sows) and boars (each other plus the big boar) and then slaughtering them at one month age intervals. The boar hanging above was slaughtered two weeks ago at six months of age. So far we have had ground sausage with and without spices, ham, bacon, pork chops and fried pork from this boar. All of the meat and the fat are delicious. There is no sign of boar taint in this boar. This is the oldest boar I have tested to date. I was very pleased with the results.
My conclusion is that castration is not necessary. Note that this is not a fully supported scientific conclusion, yet. To make that I need to slaughter about 99 more boars over the age of 6 months before I can say this with full confidence of having some statistical validity. At 9 more boars I will be very confident for my own purposes. You'll have to pick your own level of comfort for statistical validity.
Hopefully my results will continue to be positive. If so then I want to educate people that castrating is not necessary for boars that are only grown to six or seven months of age. This is supported by the research in Brazil and Europe. Even after I have reached a statistically significant sample size there will still be people who want their little boar piglets cut. This is unfortunate but for now I will continue to do it.
There are reasons not to castrate. Boars who keep their balls grow about 10% faster than barrows and about 20% faster than gilts on average. They have better feed conversion and put on less fat giving more meat than gilts or barrows. The meat is delicious and tender just like with the gilts and barrows. They are also just as gentle and even tempered as the gilts and barrows. There is no real need for putting the piglet through the trauma of castration. The wise pig herder will want to raise boars because they are faster growing and more cost effective.
The last thing I would like to mention is that there are very real risks to castration. It is possible for a boar piglet to have an undetected hernia whereby when it is castrated the little guys small intestines come squirting out the cut. This is a death sentence, probably quite painful and a waste of a good piglet. Infection is another real risk. I have not yet had it happen but if it did it could be bad and possibly kill the piglet. Additionally the cut piglet is traumatized and goes off feed according to research I have read resulting in him dropping back on weight gain for a few days.
All in all, castration is an unpleasant experience for everyone involved and may not be necessary. There are the few male pigs, and even occasional female pigs, who do have boar taint according to some people and I believe them. If we could figure out another, more gentle way to avoid that it would be preferred by all.
Also see the article: To Cut or Not" and the article about testing for taint.
Mud season on the farm is shitty weather – please check your boots.
38°F/21°F, Sunny.