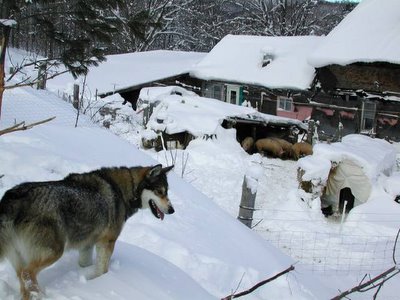 Over the years we have had four generations of working dogs here at Sugar Mountain, starting with our grand-sire Coy. They guard our livestock, herd, provide companionship and ride shotgun in the car – at least the ones who are small enough. People often ask what breed the dogs are. Mostly they are "Other" mixed with a tiny bit of German Shepherd and a pinch bit of Black Lab. We raise them with the livestock and train them from a young age. It takes about a year to two years to train a dog all the way up, although they do useful work from a young age. Much of the young dog's training is working with the older dogs. Most of our dogs are easy to train and it is a joyful process with them.
Then there is Kita. Kita was my problem child. Frankly, it was not her fault. She had left us to go to another family at three months of age. She was returned to us nine months later when the family that had her moved to an apartment. She then went almost immediately to another family but it didn't work out and she came back to us. I soon discovered why she had not worked out at the second family.
On the one hand she was delighted to be home but Kita was a disaster because the first family had left her chained most of the time with no contact with livestock animals. Kita was spastic. She was full of energy and didn't know how to channel it. As someone who tried to work with her commented, she was a 150 horse power dog. She was totally inattentive. She had no training. She was easily distracted and as I soon discovered, a livestock killer who's instincts had not been sublimated into herding and guarding. It took me 18 months to just get her undivided attention. She wanted to be good and help with the animals but it was like she was ADHD. She was not like that when she left and none of her family has ever been like that – I think this was caused by her being chained so much of the time. After 18 months of failing to get her attention I was at my wits end. Her training was not progressing.
I have trained a large number of livestock guardian dogs with positive reinforcement to voice and hand sign command. I train for guarding, herding, house and car so the dogs are cross trained which gives them the maximum working life and a better quality of life for both them and us since they are more flexible. I have always been able to reach a dog and get its attention so that it becomes trained as I wanted. Dogs want to be a part of the pack and have a job to do. They love their work. I have successfully retrained two other adult dogs that were killers and one huge puppy that was also a chicken killer. But with Kita I could not get her attention. She loved me. She wanted to please me. She wanted to behave, but her attention was too scattered and she could not resist killing. She had killed many chickens (the hardest livestock animal to train dogs for) as well as an adult sheep. Being tied up for nine months without training or exposure to working conditions and livestock had virtually ruined a wonderful dog.
In desperation, after 18 months of my normal training methods, I finally I bought a radio shock collar for her. This is something I had never used and I had a lot of misgivings about. I spent a month researching the collars. I hated the idea but concluded it was no worse than an electric fence and it could save her life. I first tried it on myself. It gets your attention but is definitely not worse than an electric fence. If anything the collar is mild compared with the fence. I let Kita get used to just wearing the collar for several days before we started working with it. When I was ready I set Kita up in a situation where I knew she would run – one of her issues is, when let off leash, she would become an almost instant blur on the distant horizon – we're talking very fast dogs.
It took one training session – vibrate followed by a single shock coupled with my shouting a loud, deep "NO!" Suddenly Killer Kita became totally attentive to me and staying right by my side. She continued to wear the collar for about four months as I trained her with my normal positive reinforcement techniques and in that time I only used the shock four more times, on mild, when she went for a kill and once when she did her blur on the horizon trick. The rest of the time I used the vibrate setting which makes a soft sound and shakes the collar like a phone pager – no shock. This is an "Attention!" cue. From the moment I got her attention it took another several months before Kita was fully trained as a guardian. She progressed very rapidly eventually catching up with her father, her sister Kia and her nephew Saturn who were naturals from birth – they have the advantage of having always lived here at Sugar Mountain.
After she had returned, the other guardian dogs would not let her near the livestock because they did not trust her. By the end of the training even they recognized her new status and worked with her in the fields. Eventually Kita became our lead livestock guardian dog. She is on free roam which means she can be out alone without any human supervision. She patrols our local field boundaries, stays with the livestock, herds and does chores in the morning with me. Now she even trains younger dogs, like Napoleon. I trust Kita completely with ducks, chicks, hens, sheep, pigs, piglets, puppies and all other animals. She even is able to be a car dog for short trips, part of her training, and be around people. The key to turning Killer Kita into a wonderful guardian obedience dog was getting her attention. After that it was just a matter of using standard positive reinforcement techniques to shape the behaviors she needed to do her job.
Shock collars have a bad reputation and I cringed at the idea of using one but nothing else was working. It is not as strong as an electric fence – I used it on myself to know what I was doing. What it did for her was get her attention and in an amazingly short period of time. Most importantly it gave Kita her freedom. She no longer has to be on a leash, chained or fenced. She is now a free roaming dog who gets to do what she wanted all along, to work the animals. If I tell her to stay inside a fence she does. If I tell her to jump or something comes up where she judges it necessary, she jumps the fence. The radio collar probably saved her life – people shoot dogs they find on their property. Now Kita stays home, does her job and is a model citizen.
The kind of remote I got is a "DT Systems Radio Training Collar EZT plus." There are a number of less expensive brands out there with ranges of only 50′ to 100′. After doing a lot of web research I settled on the DT EZT+ as being the best buy with a reasonably long range of about 1/2 mile in most actual use and up to a mile under ideal conditions according to our tests here. And no, I don't own stock in the company, get paid for an endorsement or have any other association with them other than having bought one of their products. I'm just glad it worked for Kita, gaver her her freedom and me back the dog I loved.
23째F/14째F, 4″ Snow