Today was the winter solstice. For us the solar noon was at 11:48 am. Fortunately we had a beautiful sunny day to take readings. We measured the angles of the sun which gives us the angle of the lowest noontime sun for our latitude as well as the direction of solar south. These are important angles to know when designing a passive solar house up here in the north country where we don't get all that much winter sun.
The period we just finished is our darkest time, not just because of the deminishing sun angle but also because of small number of sun days we get during this period. It has been quite overcast. As we get into January and February we tend to have a lot more crystal clear days and nights which means more sunshine. Ironically we'll also get a lot colder weather in January and February due in part to the radiant cooling that we get on clear nights when the low temperatures drop the moisture out of the air. This is also the best star gazing time of the year although rather chilly if you're out for long.
The great Vermont Pig Jumping Open. Here is Will performing the jump that won him his gold medal! Actually no, it does look like Will is jumping the pig but really the pig is about four or five feet closer to me – the effect was caused by the telephoto zoom compressing the distance. Be assured that no pigs were hurt in the making of this photo! Although I do think the pig was slightly disconcerted.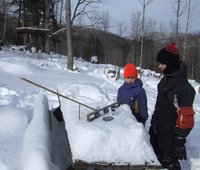 After a bit of snowboarding following chores we broke to measure the angles of the sun. The tools are simple. If you didn't get to go out and worship the Solstice, um, I mean measure the angles, on the 21st, you can do it the next day or the following day and you'll still be close enough for most uses. To get solar noon we used a weather report to get sunrise and sunset for our zipcode area and then calculated the mid-point. We use the atomic clock via the internet to get the time of day to be accurate there. We also used a magnetic compass, a level, a ruler and a protractor to directly measure the angle as well as doing a shadow stick to do a triangle and calculate the angle with trignometry. This of course lead to a discussion about seasons, magnetic north and other things. A great homeschooling project out in the pasture on a sunny snowy day. Then back to snowboarding where I got the photos at the top of my two suns. No, that is not a typo or a spelling error.
Dig in and let the warm tempered arms of the earth enfold you in their embrace.
15째F/-8째F, 1/2″ Snow, Sunny
Tags: solstice sun seasons earth snowboarding jump snowboard snow pig
Sightings: Raven