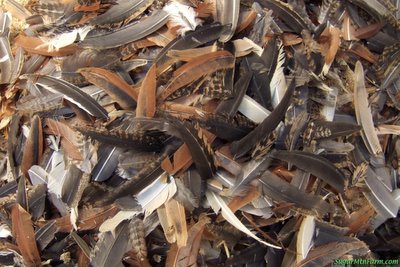 Those are the flight feathers from the left wings of 64 poulets – 32 Araucana chickens which lay the colorful blue eggs, 29 Rhode Island Reds, two Buff Orpingtons and one White Oprington. They are now six weeks old and we disassembled their brooder so they could have the run of the garden shed. In the process we clipped the flight feathers so they will not learn to fly. I find that if we cut the feathers once or twice, basically keeping them flightless for the first year, they never learn to fly. When the feathers grow back in after their first adult molt they are too big to fly well so I don't have to keep clipping.
This is an effective and painless way of controlling where poultry can and can not go. It keeps the chickens in the garden corals for the winter and early spring until I'm ready to let them out on pasture. It keeps them out of the gardens once our seeds are planted and tender seedlings are growing. The garden corrals have 3′ and 4′ fences of woven wire or chicken wire around them which is too high for the birds to jump without some serious wing work.
"My goal in life is to be the person my dog thinks I am." -?
30°F/15°F, 3″ Snow, Partly Sunny