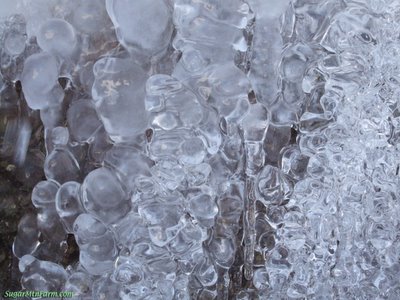 Fuji FinePix E900 ISO800 f8.0 1/250s Natural Light
A couple of weeks ago I took some photos of ice on twigs down by the river in Plainfield. I had just gotten my Fuji E900 and the photos did not come out to my satisfaction. Later I saw some very similar and beautifully done photos by Lené over on the Leaning Birches blog. This inspired me to try to create some interesting ice to photograph since I don't get over to the river often.

We have been setting up winter water for the pigs on their new terrace. Rather than having the spring overflow go down into their watering tub I set the pipe up to shoot off the top of the six foot high embankment. This has created some spectacular ice formations that we've been watching grow the last few days with the deep cold that has come our way. The top photo is a small sample near the bottom of the falls. In the second photo you can see the pipe at the top and the ice forming down the rock wall. To the left is the first of the three pole shed pig dens. At the bottom the water runs into the sow pond and from there across the terrace through an underground pipe to fall down a 20′ embankment to the next terrace and then eventually to the lower pig pond which is closed off now that winter is here.
It will be interesting to see how this sculpture grows through the winter. I'm watching the end of the pipe carefully to make sure the ice does not over grow the opening and stop the flow…
Yoda here is a link to a cropped RAW image from my new Fuji FinePix E900 that many people have asked to see. The full RAW files are too large at over 18MB and I have no way to crop a RAW file and then save it again as RAW so what I did, at the suggestion of Chris, was to crop and then save in the highest quality JPEG format. The EXIF data is still in the file for those who want to check it out. Just click on the place holder image above to get the larger cropped RAW file and then save it to your computer to play with. Note that the file is still rather large (600KB).
Do NOT buy the Fuji FinePix E900 digital camera. See this update.
Also see: Blue Sky Ice, Crystal Caverns, Ice Carving.
"Ice is nice." -F. T. Snowman
18°F/2°F, 1/4″ Snow, Sunny