NOTE: I am unable to post to my blog since Sunday morning. Something is going wrong with Blogger.com which is giving me 550 errors and failure to post new posts starting on Sunday. Hopefully this will be resolved soon. I am trying to reach Blogger support but have had no success yet. While I wait for them to respond (It is now Tuesday) I am looking into other blogging solutions such as WordPress which will give me more control.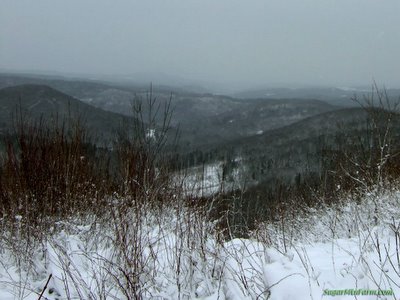 It has been a bad week for sheep. The fence was off while we were working along it doing the pig den roofs. It was dusk before we were done – a bear killed one ewe and injured another who died today. (Later I realized this was a cougar kill, not a bear kill.) A third sheep freaked and jumped the fence. I tracked it yesterday up to Sugar Mountain but it got too dark and I was nervous even dressed in orange. This noon a hunter stopped by to let me know he had seen a sheep up on top of Sugar Mountain. Will, two of the dogs and I hiked the peak and ridges looking for it. We found lots of tracks as well as two places with spore. That is one active sheep – up and down the mountain and back up again. We tracked it for miles but when the light was gone we returned home sans sheep.
It was a beautiful day for a long hike although I do prefer to not hike when there are hunters in the woods. We wore blaze orange and put orange vests on Kita and Saturn who tracked with us. I got some great panoramic photos with my new Fuji FinePix E900 digital camera that arrived yesterday evening.
Do NOT buy the Fuji FinePix E900 digital camera. See this update.
More news on that to follow once I've played with the camera for a while. The photo above is one of my first with the E900. This was taken from the top of Sugar Mountain looking back at our home fields. In the distance you can see our neighbors Brian and Becky who are about three quarters of a mile away from our house down the valley. On a clear day you can see all the way to New Hampshire but the snow today limited visibility a bit. In the foreground are red raspberry bushes that have grown up in the area in the top of our sugar bush that was devastated by the ice storm of 1998.
Friday: Low 24째F, High 31째F, 2″ Snow
Saturday: Low 23째F, High 30째F, 1″ Snow