As the song goes, this is our house, smack, dab in the middle of the road, as viewed from the top of Sugar Mountain in the Spring when the leaves are off the trees.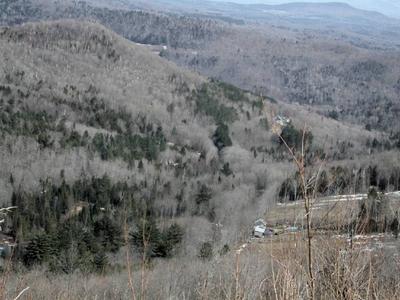 We get a lot of people who turn around in our driveway because they realize they've gotten onto a dead end road or think they're going nowhere. They might be right, but not for the reasons they think. The road goes on. The irony is that going back is just as far as going forward. I think part of their confusion is the power line ends at our house so people figure the road is about to dwindle down to a dead end and they don't want to risk not being able to turn around. By the time they've gotten to our driveway they've gone for a mile with no good places to turn back. The dogs always find this quite exciting and great the strangers with a resounding howl of a cheer.
Realize that when I say a lot of people, I don't mean very many. We only get about one car an hour going by the house with rush second peaking at about two or three cars. Still, we get about three turn-arounds a day most times of the year, less in winter. On a quiet back road like ours, every car is an event. :-)
Being in the middle of the road and having it go straight through has its pros and cons. Some fool hardy people think it is a short cut. It isn't – less so at high speeds. The potholes, washboard and stones are pretty hard on their cars to say the least. Every year a few of the faster ones miss one or another of the corners. Generally a snowbank catches the lucky ones. The unlucky find a tree or stone wall with their name on it. I find the skid marks and occasional bumper or other ornamental portion of their vehicle. A few have discovered the town digs good deep ditches and I've pulled them out with the tractor.
On the plus side of having a road that goes straight through it makes it very easy to get deliveries via big tractor trailer trucks. This is great for deliveries of fencing, building supplies, heavy equipment and the like. It was also great for 17,138 pounds of cheddar cheese that we got this week. Yes, seventeen thousand one hundred and thirty eight pounds. That is not a typo. That is eighteen pallet loads of cheese, each about at the maximum weight our tractor can lift with its new pallet forks at maximum height. I was rather nervous of lifting pallets down from the upper stacks at the gate of the truck to say the least! I should have left the backhoe on for added ballast!
Getting this delivery was half the excuse to get the pallet forks. The other half is so that we can save money on hay by getting round bales instead of square bales. Between the savings on gas and vehicle wear to pickup the cheese and the savings on the hay it pays for the pallet forks many times over.
So what you ask am I going to do with 17,000 lbs of Vermont cheddar cheese?!? Why, feed it to the pigs of course! And the chickens and ducks. Even the sheep and dogs steal a few bites. The pigs love the stuff and grow great guns on it. Pasture, milk and cheeses make up almost all of their diet. In the winter we substitute hay for the pasture – they'll eat about four to ten pounds of hay a day in addition to bedding in it. In fact, if I don't keep renewing their bedding it vanishes – in one end and out the other.
Pasture, milk and cheese makes for great tasting pigs. We have had many customers comment on how sweet and tender the meat is. And not just the meat but the fat tastes better than store bought pork. Note that if you do feed milk or cheese to your pigs go slowly. Give them time to adapt to the new diet by introducing it over a period of weeks. Let the milk stand for a couple of days to sour. It makes it more like yogurt and is easier for the pigs to digest. In fact mixing in some yogurt and leaving it in barrels or pails for a couple of days makes it just right for the pigs. Fresh cows milk can give them diarrhea. It is the fat in the milk that is the problem. Low fat milk and cottage cheese don't give them a problem. Another trick is to mix in orange juice – something we get from another dairy along with milk.
Another obvious question you might be wondering is how much did it cost? Nada. Rien. Nothing. We got it completely free! Normally we have to drive to the creamery where they make the cheese to pick it up so that costs gasoline, vehicle wear and time. In this case they delivered a whole tractor trailer truckload since we were willing to take so much at once and it helped them clear out excess inventory. This will last us quite a while and now that it is fall the weather is cool so it will store well.
You might also be wondering how could there ever be that much free cheese?!? Well, sometimes someone makes a mistake. And when it is a big business making tens of millions of pounds of cheese even a little mistake can be a very big mistake. This one was about 100,000 lbs of mistake. Usually it is just a pallet of cottage cheese that tastes different or some milk that has the wrong percent of butter fat in it. These things happen. Lots of people work very hard to make sure these errors are minimized but when they do happen it is good that something productive can be done with this excess product. There are other things that cause excesses such as when products are still good but are at or beyond their sell-by date so they get pulled from the shelves or never even sent out to the stores. Or maybe the new flavor was a flub. Or the product go out on the delivery truck but the store changes their mind or there is some error and the food comes back to the warehouse. By law it can't go out again for human consumption. There are many innocent things that can lead to waste and excess of perfectly good food. Fortunately the pigs love it all.
This is a win-win situation for both the dairy and us. They need to get rid of the excess and free up warehouse space. Being wise people that they are, they would rather put it to good use. Besides, it costs a lot of money to put it in the land fill, if it can even put sent there. We farmers win big because we get free food for the animals. Good for the creamery, good for the farmer, good for the pigs and good for the planet!
So now I need to clean out the hay shed and make space for some of this cheese before I store this winter's hay. I had planned to do this before it arrived but when Ed called up late on Tuesday and said he would be there the next morning at 8 a.m. with a truckload there was no time to clear the shed and nothing to say but, "Sure thing!" I'm counting my blessings and saying a big thank you to the wonderful people at Cabot!
If you are raising animals, look around and think creatively about how you can get sources of good free food for them. You may be able to do your little part to help the environment by keeping stuff out of the waste stream. Check with your local grocery stores, bakeries, ice cream makers, dairies, cheese makers, creameries and other food vendors and producers. Good quality pre-consumer food wastes can make excellent animal feeds and save you a lot of money.