Welcome to Sugar Mountain Farm!
Thank you for stopping by the Berdas booth where they sell our famous Sugar Mountain Farm uncured maple bacon made with real Vermont Maple Syrup right here on Sugar Mountain in West Topsham, Vermont!
We are the Jeffries family, raising pastured pigs in the mountains just east of Barre-Montpelier where we have our own USDA/VTState inspected on-farm butcher shop.
In addition to supplying Berdas we also deliver our delicious pork weekly year round to 22 other stores and restaurants as well as to individuals throughout Vermont and into New Hampshire.
To celebrate the fair we're giving out ten free sampler boxes of our delicious pork! To enter in the drawing:
[yop_poll id='5′]
Winners can meet our delivery vehicle along our route or pickup at the farm or get their pork shipped to their home for only $20 in the continental USA. That that our dry rub bacon is only available within Vermont at this time as we are still awaiting USDA label approval.
For more information about our products and where we deliver:
"The meat is absolutely delicious. The freshness, color, texture, and taste of the meat is unlike anything I've found in the stores, even expensive ones like Whole Foods. My mom who was born and raised in Italy said the meat is delicious. She grew up eating only food/meat that the family grew. For her to say that is seriously high praise."
-Toni Boiano, Rhode Island
---
Scheduling is out about 14 days currently.
To get on the reserve list, order now with a deposit.
"Just wanted to tell you that I ate the BEST pork chops I've ever tasted. I simply grilled them with a little salt, pepper and garlic because I wanted to taste them, oh my!!!"
-Sue K., Vermont about Sugar Mountain Pork
"As the Meat Fabrication Instructor at New England Culinary Institute, I had several opportunities to use Sugar Mountain Farm pork. I was always impressed with the quality of product and the professional manner in which it was handled. My dealings with Walter and his wife were also very professional, while passion for their endeavor was always evident. The expansion of their operation to include an inspected slaughter and processing facility is a welcome move for small agriculture in Vermont."
-Chef Bryan Severns, New England Culinary Institute, Vermont
Recommended Reading:
"With the on-site abattoir that Walter is pursuing I see great opportunities. With every transaction I made with him he has been prompt, professional, and delivered a product of superior quality."
-Peter Ireland, Former Chef & Owner, Carpenter & Main Restaurant, Norwich, Vermont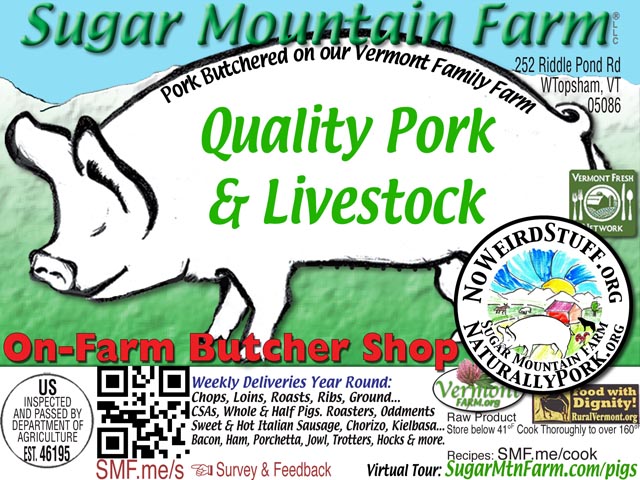 "I was so pleased to learn that Sugar Mountain Farm will be developing an on-farm slaughter facility. Sugar Mountain has been an integral part of our annual Pig Roast here at Magic Mountain, and I can only imagine how on-farm slaughter will improve your already excellent product."
-Bob Williams, Inn on Magic Mountain, Vermont
Member:
Northeast Organic Farming Association of Vermont (NOFA-VT)
Vermont Fresh Network,
Rural Vermont
The Vermont Grass Farmers' Association,
Vital Communities
PasturedPork.org,
and a NoWeirdStuff.org farm.
Vermont Dept of Ag Wholesale & Retail Licenses
USDA/State Inspected slaughter & processing