Butcher Shop at Sugar Mountain Snowed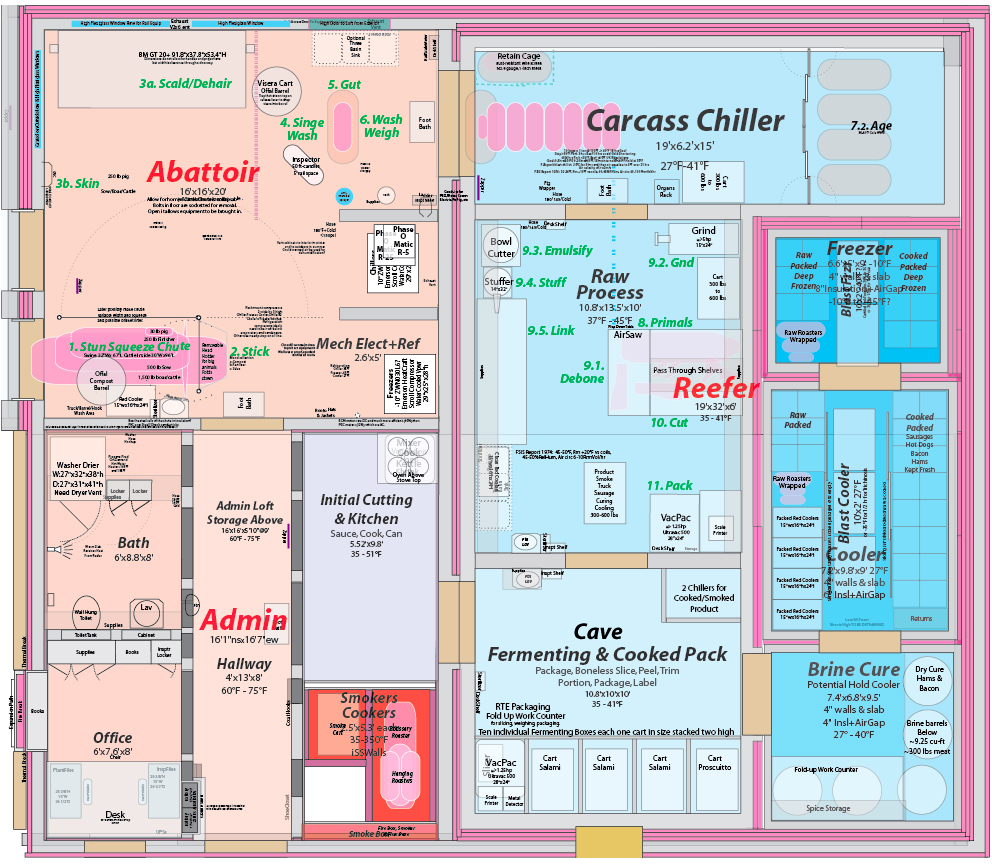 Layout – Click for the Big View

Sugar Mountain Farm Butcher Label
Our family built our own USDA/State inspected on-farm slaughterhouse and butcher shop – an amazing journey of a family designed, built, owned and operated on-farm modern meat processing facility with an old world feel: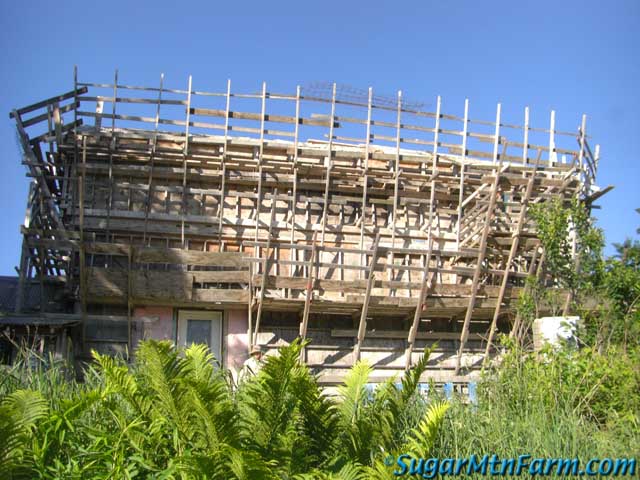 Since banks were not lending and government grants were not available we bootstrapped the construction from our savings, farm's cash flow, sale of assets like our dump truck, selling CSA Pre-Buys where customers get free processing in exchange for buying early, Kickstarter and generous loans from several area business, customers and other individuals. The butcher shop was truly a home grown success.
We divided our big project into phases. First building the shells of the building and then finishing off our on-farm butcher shop where we do raw processing, e.g., the cutting of the carcasses into chops, roasts, ribs and other portions. Next we added sausage making which is an additional regulatory step and involves new skills. Next we plan to finish off the walk-in coolers, the brine room and cave so that we can start smoking bacon, hams and other cuts. We'll move meat cutting (a.k.a. butchery or raw processing) into the three times larger final cutting room which will have space for making our hot dogs. In about five years we plan to add on-farm slaughter section to bring the process entirely on-farm. Each phase helps to pay for the next phase, breaking the project up into manageable chunks that we can fund and handle in a step-by-step manner.
---
What does the Butcher Shop mean?
For the pigs the butcher shop means that eventually they will spend their entire lives on our farm and not have to be trucked the long distance to a remote slaughterhouse. This will mean there is no bad day for a pig at Sugar Mountain Farm.
For our customers the butcher shop means quality, local, low food miles, faster turn around, more varieties of products and cuts that they can't obtain elsewhere.
For us the butcher shop means less time spent on the road, lower costs of processing, selling more of the pig, more opportunities to do value added products and security for our family in knowing we will have processing available in the ten to twelve months it takes to get a pig from breeding to plate.
For other local farmers our butcher shop means more available processing slots at the existing butchers and a open sourced demonstration of how a family can bootstrap their own USDA/State inspected meat processing facility.
Related Links:
---
Due to regulatory and insurance complexities we do not offer processing for other farms. After we have the facility completely finished and everything running smoothly for several years we'll be able to consider at doing livestock for other farms. We do sometimes buy in pigs from other farms to raise and butcher but do not offer custom processing at this time. If we do eventually offer custom processing to other farms we would start with processing for people who buy summer weaner pigs from us.
For commercial or custom processing of your livestock we highly recommend Adams Farm Slaughter[1,2] in Athol, Mass. They do a wonderful job with humane slaughter, meat cutting, linked sausage making and smoking. We have been very pleased with their work for years and I highly recommend them. You can reach them at their website. I would suggest scheduling with them by June since the fall season is very busy.
For on-farm butchering I highly recommend master butcher Cole Ward who can come to your place and cut your meat for you. He is the gentleman that our family apprenticed with for 18 months to learn the art of butchering pigs. Cole does meat cutting workshops, something we do not do, and he has a series of DVDs and books that will teach you how to cut your own meat as well as giving great history and insight into the realm of American butchers.
While we won't initially do processing for other farms at this time, our project benefits other farmers since it frees up 500 to 1,000 processing slots a year helping to relieve the regional meat processing bottleneck. Another benefit for other farmers is we are paving the way for how small farms can build very small, even nano-scale, inspected processing facilities through sharing information of how we permitted, build and operate our facility including the floor layouts and other details. Other farms have already started their own facility following our lead in this grand adventure. The Sugar Mountain Farm butcher shop has been chosen for the Open Source Ecology project which will help spread the information to more people. See the butcher shop articles on this blog as well as those about marketing and meat labeling.
Please note that I do not do consulting on setting up a butcher shop. You're free to read the posts here about how we did things and borrow ideas. Ask questions in the comments of various posts on my blog. If you're looking to open your own meat processing facility start with your state department of agriculture meat inspection and the FSIS USDA Very Small Plant Outreach web site. You may wish to get this book: Your self-study guide to understanding how to develop a HACCP plan. Also visit the Niche Meat Processing Organization. Humane handling resources can be found at Temple Grandin's site.
We're not setup to do farm tours, seminars, classes or agritourism. However, head on over to our Farm page and watch the eight minute video tour of our farm and from when we were building the butcher shop. You'll get to virtually sit in the field and have a pig snuffle your nose.