Skin & Bones – The Rest of the Pig
There is more to the pig than just the classic cuts of pork chops, hams, bacon and ribs. There are also good eating in the oddments such as skin which can be used to make chicharones, puffed pork rinds, crackling and for covering roasts making them self basting.
Sponsoring Ad: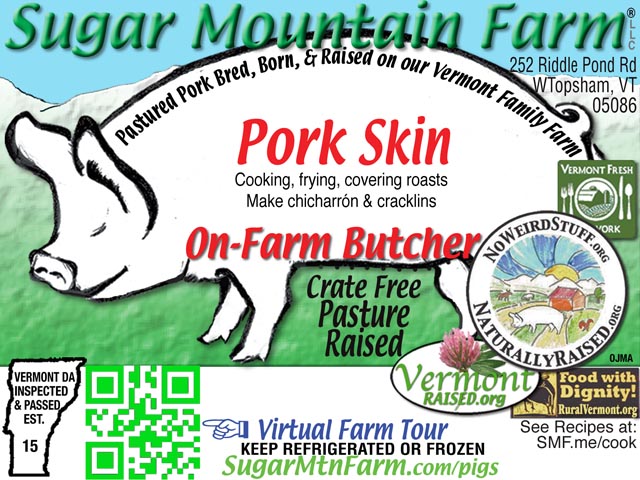 Trotters, Head & Pork Skin In Situ
We get requests for skin, back fat and such both from individuals and through the store managers but these things don't tend to be carried on the shelves as they're oddments, less common cuts with which American consumers are not as familiar. This is a bit of a catch-22 since if the product isn't on shelves then buyers don't know about it so they don't shop for it so store managers don't carry it.
Now that we have our own on-farm butcher shop I'm able to do some special cutting to break through this cycle. This week I sampled some oddments to stores for your culinary pleasure:
Trotters – excellent for thickening stews; Recipes
Skin – for making chicharones, puffed pork rinds, crackling and for covering roasts making them self basting; Recipes
Bones – cut to expose the marrow for making nourishing, wholesome stews and soups. Recipes
These are all inexpensive items that you can find at the following stores here in Vermont:
Of course, they also carry our delicious pork chops, roasts, belly, bacon, sausage, sirloin and other top cuts of pastured pork from Sugar Mountain Farm!

Time to do some warm, nourishing, comfort cooking in these chilling winter months…!

If you're incline to dine out then check out these restaurants which also feature our pork every day here in central Vermont:

Outdoors: 18°F/12°F Partially Sunny
Tiny Cottage: 57°F/62°F

Daily Spark: Elephants in the wrong room are best ignored.

Sponsoring Advertisements: