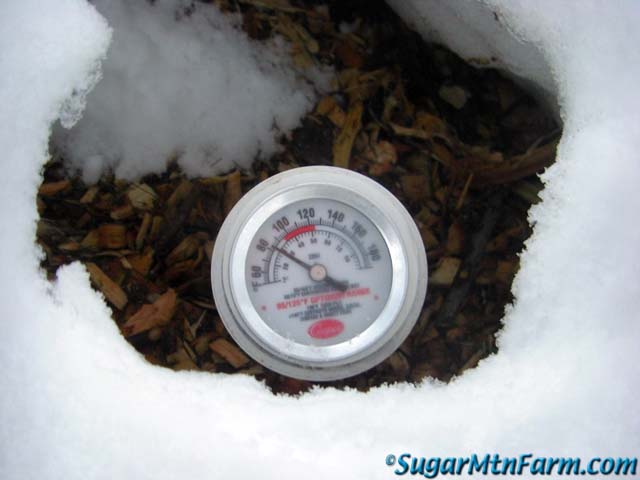 Wood Chip Compost Heating Up
While we were working on putting up ribs on the greenhouse in the south field I noticed a black hole. Then another. And another…
Turns out that the two foot layer of
wood chips
we had laid down inside the foot print of the greenhouse back in the fall while big delivery trucks still had access has started to compost and was melting the foot and a half of hard pack snow above it creating steaming vent holes.
A quick probe with the thermometer revealed a toasty warm 82°F eighteen inches down in the deep bedding pack. The pigs will be pleased.
An interesting point is that this bedding is just wood chips. The pigs have not yet added their secret recipe of nitrogen to the bedding which heats up the composting action. There is no hay in this bedding to add its nitrogen which also heats up the bedding pack. It is cold out which sometimes freezes compost piles, especially those that have not yet come to heat by fall. Lastly the bedding matierial is only two feet deep which is half the recommended depth for starting up a compost pile. Yet, even with these short comings it is approaching the prime composting temperature zone and generating a lot of heat. Multiply that out over 38'x96′ for a big hot bed and warm bellies for the livestock during the winter.
We find that compost heat is a lot cheaper than the impossibility of a heated barn, puts the heat right where it is most needed at toes and bellies, allows – in fact encourages – the circulation of fresh air, generates food and produces a rich soil amendment for our land using local organic resources. It's all around a total win that mimics the natural bedding pack on the forest floor.
Currently the pigs are using their other open sheds and groves in winter paddocks which all have deep bedding packs that they're heating and eating. The composting bedding material gets cooked through decomposition and becomes more digestible – one of their secret tricks that they use here, and in the wild, for eating tougher fiber materials. By the time we get the greenhouse covered the bedding pack there will be up to temperature and the late gestation sows as well as younger pigs will hopefully appreciate the switch into their new winter space.
One thing I can say about putting up a greenhouse in January is at least we have avoided working in the heat of summer! Brr…
Outdoors: 7°F/-4°F 3″ Snow
Tiny Cottage: 65°F/59°F
Daily Spark: I fundamentally have a hard time trusting someone who starts out by stating they're honest. Honesty should be a basic assumption. If it has to be marketed I get suspicious.