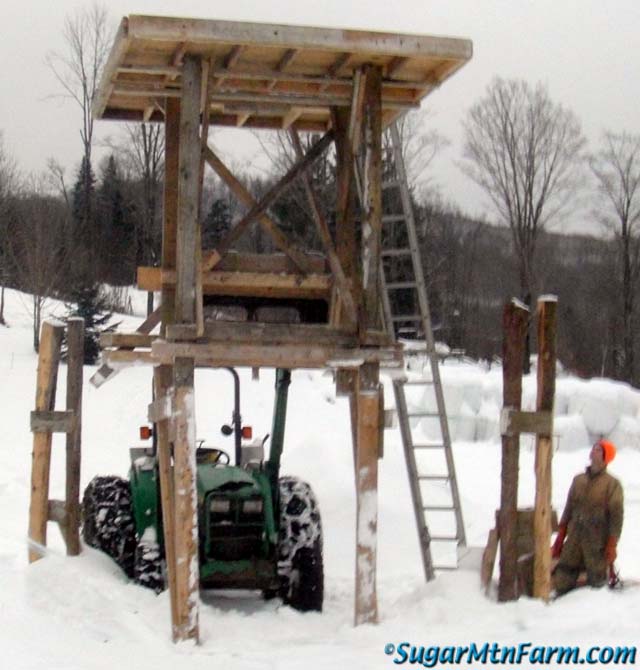 Siege Tower at Greenhouse
Every castle needs a siege tower, no? Ours lifts my feet up 16′ so I can easily reach 21′ up in the air to do work on the top rafters and purloins of our rising greenhouse on the south field plateau. Will built this siege tower which weighs about 360 lbs. A nice round number. That is not including the weight of the tractor it attaches to for mobility.
The siege tower is able to be positioned at multiple heights from 8′ to 16′ so that we can work on different parts of the greenhouse from a safe 8'x8′ platform. In the middle of the platform is an anchor bolt with an eye to clip in with a carabiner for my climbing harness. I'm not afraid of heights but I would rather not be worried about falling while also manipulating the roughly 50′ long 2.375″ thick steel ribs of the greenhouse.
Plan for Storming Castles
For putting up large greenhouses I've seen other people rent bucket lifts but that isn't feasible for us in part because they would simply be difficult if not impossible to get into the location. I also want it available longer than is economically feasible to rent.
Our tractor has a wide base of 8′ and the strength to safely lift the load. The removable lower legs of the tower provide two more feet on the ground during use when it is up at it's higher heights. Remember, always keep all six feet on the ground for stability – two feet plus four wheels in park.
The tractor can lift the tower a foot taller. We built it slightly lower than the tractor's lift max so the tractor fork lift loader arms can lift the siege tower one foot up in the air to clear the ground for when we need to move to a new position. The lifting and moving is only done when everyone is safely down on the ground. Safety first.
The forms are recycled concrete forms from building the butcher shop. Some of the forms for the butcher shop were recycled from building the south field, some of those come from building the cottage and some of that wood came from the old hay shed. Reuse, reuse, reuse…
Outdoors: 24°F/4°F Cloudy
Tiny Cottage: 65°F/60°F
Daily Spark: One man's invasive is another man's crop.