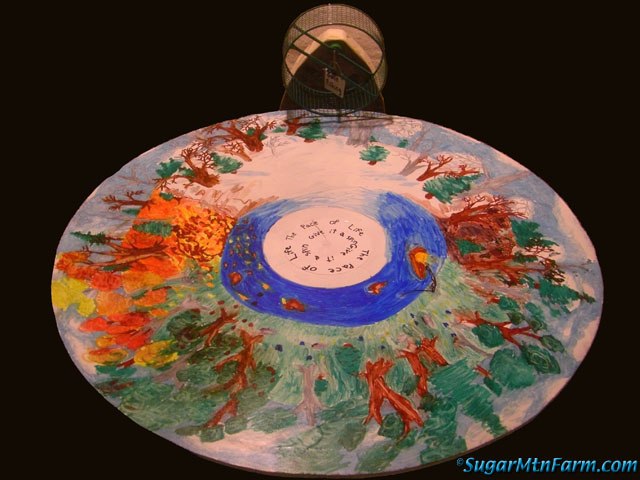 Reflections on the Year by Ben Jeffries
Tomorrow the art show opens at the Upper Valley Food Coop in White River Junction, Vermont. If you'll be in the area, check it out!
Sponsoring Ad:
Click image for Close Up View
Ben's sculpture is a reflection on the passage of time through the seasons of the year. The painted table rotates on ball berrings, that Ben engineered and built himself, causing the hamster wheel to spin.

Reflections in Stainless Steel by Will
Click for Big Picture
Will's sculpture is made of stainless steel. The figurine is pondering his own reflection in the mirror polished base.

Who is Looking?
Click for Big Picture
The ripples in the stainless steel pond of the base was inspired by the deformation he saw through differential heating of the metal. He made the ripples in the piece by hammering. This distorts the image of those who peer in, both the figurine and the sculpture's viewer.
Catch the show at the Upper Valley Food Coop in White River Junction, Vermont starting Friday, December 19th with a grand opening beginning at 4 pm. The show runs through January 2nd, 2015. See this map for directions on how to get to the Coop.
Outdoors: 29°F/24°F Light Snow
Tiny Cottage: 66°F/62°F
Daily Spark: The problem with teaching a dog to talk is then it will.
Sponsoring Advertisements: