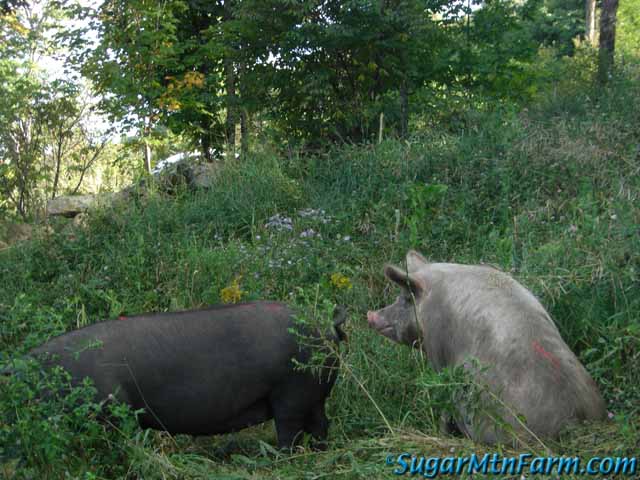 Two Sows in Pigs on Clover
Earlier this month we weaned the south sow herd and rotated 38 of them north to Spitz and Whitey's domain for breeding. About a dozen were already bred by Spitzon and Tamboarine so they stopped off in the North Home Field where they will farrow. About ten stayed south to breed with the southern gentlemen.
These are painted ladies. The stripes on their back are from sorting.[
1
,
2
] I paint pigs, every week, sometimes more often. Very artistic. X's, O's, \'s, \\'s, \\\'s. Keep, Pregnant, Consider, Drop, Move. On market day three strikes your Out, out to the lane and moving down to the loading pen for a trip in our
truck
. On herd rotation days the stripes simply mean moving to a new herd group as was the case for these ladies.
Outdoors: 61°F/43°F Sunny
Tiny Cottage: 66°F/61°F
Daily Spark: Paddock size is more about time and mass than space.