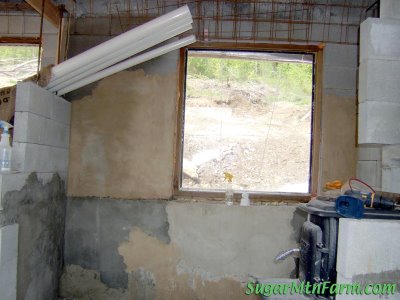 Stucco Tests on Kitchen Wall
Beautiful! Okay, well, the overall effect is ugly. What I was doing is testing of different techniques, mixes and colors as well as marblizing by mixing color batches. Some of it is really ugly, especially the industrial grey concrete, but some of it is beautiful, even better in person. The area above is behind the cabinets and counters of the kitchen so it was a great place to test and make ugly mistakes. Really ugly mistakes.
On Monday we went up to Burlington to ST Griswold to pickup some sacks of white Portland cement. The white cement, especially with a little buff pigment, produces a very pleasing off white stucco.
Just as importantly the resulting walls will be virtually indestructible and easy to wash. This will be much better than painted and even better than plaster. Heck, in the spring we'll be able to take out all our belongings, meager though they be, turn off the electricity and pressure wash the interior of the house. A real spring cleaning while the bedding airs.
I had originally intended to use a white sand with the white portland cement. That wasn't necessary. Even our local yellow sand worked grand. We did have to double sift the sand to get it down to 1/16th inch aggregate so that it would plaster well. Larger particles tended to pull and rip the stucco as we applied it. The 3/8ths inch aggregate that we got out of the sifting we'll save for other projects where we'll grind the surface to reveal the stones.
For the final wall color I want to end up with something quite a bit lighter than what is shown above for the most part but not as white as the pure white cement. We want a bit of buff tint, an off-white to warm the color and meld with the stone. We also want to have it be a little textured and a little marbled so I will probably use three different colors – white, 10% buff and 25% buff of what is above. I like the area in the upper middle by the window. We still have some experiments to do. Fortunately there are plenty of areas behind wainscot and the like to test on before we get to doing the final interior walls.
Wednesday-Friday Outdoors: 81°F/45°F Sunny
Farm House: 73°F/53°F
Tiny Cottage: 54°F/69°F Stucco Tests